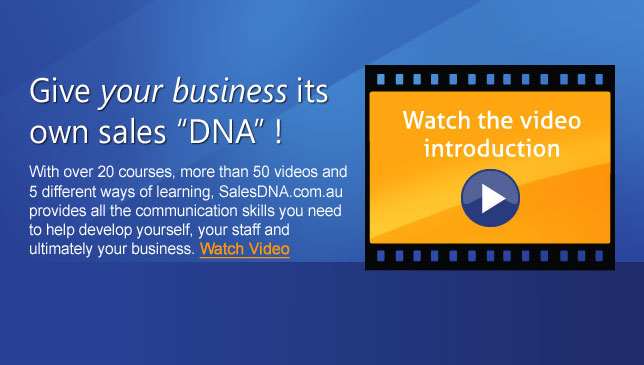 Sales DNA Benefits
Learn in your own time and pace
Immediate answers to daily issues
Access anywhere, anytime
Revisit as often as you like
World standard content
Tailor content using "coach mode"
Grow Managers & staff together
It's called Commuter Learning™!
Sign Up Now
Face to Face Communications
Featured Module

Delivering a presentation

In this first module of this series, we look at the art and skill of preparing and delivering an effective business presentation – in a formal or semi-formal environment.

We examine how to structure a presentation for maximum impact on the audience, and then what we need to do to deliver the presentation and connect with that audience - in order to achieve our desired outcome.

Video Preview
We are delighted to announce the launch of our Commuter Learning™ offering, PocketDNA.com.au!  PocketDNA provides users with a significant number of short, sharp animated videos, all focusing on the key skills needed to grow yourself, your team and your business.  From presenting to pitching, planning to value propositions, coaching to giving feedback, PocketDNA provides an invaluable tool that can be offered to every staff member! Simply click on the logo above to go to the site!

Latest News
New Strategic Management content
We are delighted to bring users two new videos from our guest presenter, Patrick Sharry. These new videos, under the ne…
Read More